1. Google My Business
If you're not using Google My Business. Start. And if you are, optimize it by making your listing as complete and detailed as possible. This includes your categories, your photos and videos, listing out services, and creating posts. Here are a couple of resources to help you:
QUICK WIN: Take 10 minutes to set up your Google My Business listing or update the following areas as needed:
Complete Your Listing – check your home page and see if there's a box with the heading, "complete your listing" and do what it suggests if so.
Review your categories. Make sure your primary category is the one you want or get the most clients from. And make sure Reflexologist is one of your categories. (It wasn't for one of my clients who offers reflexology but has a different main focus and she wasn't showing up consistently. Fixing this gave her a definite boost in the listings.)
Add a new photo of the interior and exterior of your workspace at least. Try to upload at least 2 new photos or videos (big bonus points if you upload a video). Take one during your next client session if needed. Doesn't have to be perfect, but they will be viewed and help you.
Create a post. You can use one of the photos you just added, or if you're a More Feet Club member, any of the social graphics can work too. Remember to make it easy to book with details and using Google's button option.
2. Post on Facebook or Instagram etc.

Specifically, post something engaging. The trick to getting your social media posts seen by more people these days is to get more engagement. Engagement can be anything from a click (such as to view the photo, read more, or on a link, etc.) to liking the post to commenting on it.
QUICK WIN: To make it easy, here's a free graphic you can use
Click on the graphic for the download page. Then post the graphic to your social media accounts along with a caption such as, "Are you counting down the days until your next reflexology session? How many days if so?" or "Feeling tired, stressed, or in pain? Reflexology works! Book a session to see for yourself how it can help you." (Be sure to tell them how to book with a link, email, phone number, etc.)
Or browse this list of 11 Facebook post ideas to come up with your own post >>
3. Send an email

All too often reflexologists (most small business owners really) gather emails for a newsletter list, but don't send emails out regularly. Email is an effective marketing tool as illustrated in the post, "Do I Need an Email List as a Reflexologist?" (Hint the answer is yes, it is still effective.)
QUICK WIN: To make it easy, here's email content you can use
If you have a list set up, use this free email to get an email out this week that helps your email subscribers address a common problem and sets you up as the expert. Even if the people on your email list don't have plantar fasciitis, odds are they know someone who does and can share your email with them.
Download the email content here >>
If you don't have an email list yet, your quick win can be to take the first steps to do so. Start by reading the article, "What Email Marketing Service Should I Use for My Reflexology Practice?"
4. Talk to someone new

When I (Kassy) graduated college I was determined that I'd get my first marketing job on my merits alone and not because of a connection (I don't even know why this was in my head, but I remember it was because of the lesson I learned). Of course, my first job started with a personal connection. And I've watched and experienced how personal connections fueled my career as well as the success or failure of many local businesses. Personal connections matter. So the more people you can meet, interact with, and talk to personally the easier it will be filling up your calendar with clients.
QUICK WIN: Pick one thing to attend where you'll have a chance to meet at least one new person.
If you don't know where to start, go to your Events feed on Facebook, and pick the first thing listed that you were invited to where there's a chance to talk to new people.
If you want to be more strategic, here's a list of "6 Ways to Spread the Word with Networking Activities" to get the creative juices flowing.
Then at the event, make sure to find a way to mention that you're a reflexologist and talk about how you help people. You can lead the conversation by asking what they do, or when people ask general questions like "how are you doing?" you can respond in a way that reveals something about your practice such as, "I'm great, my last reflexology client of the day said how much better they are feeling and comments like this always lift my spirits." You don't have to be pushy or suggest they come see you (though there's nothing wrong with that suggestion) but talking about your passion and love for reflexology isn't a sales pitch. It's just naturally sharing who you are.
5. Ask for a testimonial

Getting reviews on social media has many benefits for your business. While most of your clients would likely write a testimonial for you, life gets in the way and they don't always do it. But when you ask them to do it, the odds get better that they will write one. When you make it easy, the odds get even better. So don't just ask, but email them the specific link that takes them exactly where they need to be to share how much you've helped them.
QUICK WIN: Ask each client you see today if they would be willing to post a testimonial on Facebook or Google. THEN email them a link to make it easy to do so.
For Facebook, just send a link to your Facebook page and let them know there should be an option near the top to recommend them. Or you can link to the reviews tab and there should be an option there too. If they don't see one, they probably already reviewed you. Clients do need a Facebook account to leave a review.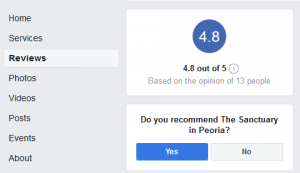 For Google, if you log into your My Business listing on the home page look for a box that says "Get more reviews" copy that link. Your customers will need to have a Google account and be logged in to leave a review.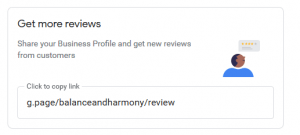 If you want to maximize the benefit of the review, you can also share them on social media too. Here's a post with examples and a tutorial video on how to use the quotes in a graphic, "Make Your Own Quote Graphics."
Bonus Win: Join the More Feet Club

Did you find this list helpful? You can get more done-for-you graphics, email content, and marketing advice tailored to your needs as a reflexologist every month. The More Feet Club makes it easy to spend a few minutes scheduling your posts and emails using content that's ready-to-implement instead of spending that time trying to figure out what to say and ending up with nothing or taking more time away from other things. Best of all, it's so affordable—less than the cost of a new client — only USD $25/month.  Get the details >>